Check us out in Lumina News!
Details

Published on Thursday, 28 August 2014 19:41
Tonbo Meadow was featured in the Lumina News this week! Be sure to pick up a copy or click on the link above to read the online version.  The article discusses the mid-century modern stylistic elements of the town homes, land planning, and the many unique LID (low-impact development) features.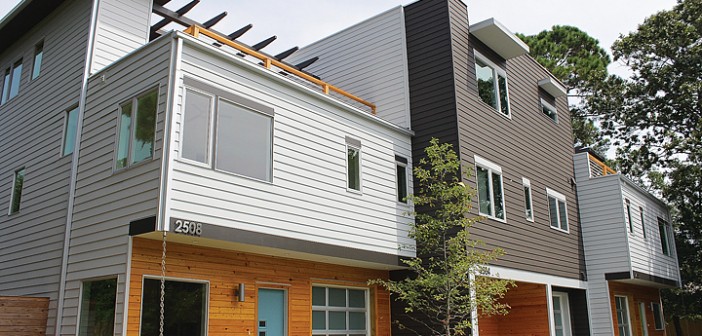 For more information on Tonbo Meadow, or to schedule a showing, please contact the Fasse bldgs. office at (910) 679 4277
Natural Pool COMING SOON to Tonbo Meadow
Details

Published on Thursday, 14 August 2014 18:42
Tonbo Meadow, off of Greenville Loop Rd. in Wilmington, NC has yet another sustainable feature in the works. As this unique, low-impact development begins to evolve into everything we hoped it would be, we began getting several inquiries about whether or not a pool would be a future amenity.
After some extensive research, we have started the initial planning phases to make this a reality! Teaming up with our landscape architect, from B+O Designs, we are in the early planning phase of this innovative feature at Tonbo Meadow.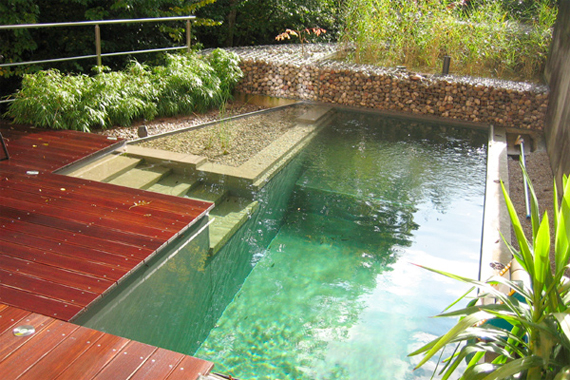 Natural pools have crystal clear water, and require no chemicals to maintain, because they are actually self-cleaning mini-ecosystems. Surprisingly, natural pools even have lower maintenance than conventional pools. This Goodhousekeeping article features a few examples worth pondering.
Natural pools are very popular in many areas of Europe and are considered a  much healthier alternative to conventional pools. Using a biological filter (gravel filter or plant filter), water is circulated by a pump to create a clear, clean, chemical-free swimming retreat. With so many different ways to design these pools, it should be interesting to watch this project unfold. They can look almost identical to traditional pools, or have the feel of a natural swimming hole. Can't wait to see how the final design turns out at Tonbo Meadow!
Fasse bldgs.
Details

Published on Monday, 11 August 2014 17:37
As many of you may have noticed, we have recently changed our company name and logo! For those of you who did not know, I present the new Fasse bldgs. logo...
We are so thrilled to see how our company is growing, evolving, and changing as we begin to channel all of our skills, talents, experience, and passion in the right direction.
The name Fasse bldgs. was created to portray a life-long vision of owner, Pam Fasse. That vision, "It's about being a good steward of the land, passing along a legacy of environmental responsibility. Now is the time to embrace our changing environment and move beyond old boundaries to a more productive and healthier morality..." is reflected by the circle (plant earth) and the flight of the birds (the uncontrolled freedom of nature). The color green streamlines the vision into a direct and forceful statement: "Fasse (green) bldgs." (But do expect to see the logo in a selective palette of mod colors as well!)
When the name and logo appear as one, we portray the ecologically free-spirited nature of Fasse bldgs., while we continue to create efficiencies and value for homeowners, and always push the envelope on environmental sustainability.
Thanks to everyone for your continued support and interest in Fasse bldgs. We look forward to this new chapter, and to embracing our new name along with all of its deeply rooted symbolism. Stay posted for more information and updates!   
Progress Report
Details

Published on Thursday, 12 June 2014 18:14
We are so excited about all of our current and upcoming projects at Fasse Construction! First let's take a look at all the progress at our favorite modern, low-impact development, Tonbo Meadow. The finishing touches are being made in unit 7 (the unit on the far left) of the first Tonbo Meadow triplex....
As for the other two units of the triplex, these are both already occupied with happy new homeowners! I stopped by last week, and got a sneak peak inside the middle unit as some of our favorite clients get settled in...
It is so nice to see all the variation and stylistic changes from unit to unit! Now leaving Tonbo Meadow, and heading towards Wilmington's historic district, where we will find another current project...a beautiful custom home on Dock Street. This home is less than two months from completion. Don't be misled by the photos....you will be surprised how much things come together in the final weeks of construction!
We also have Rogue Townhomes in the works. This is another project in the very happening downtown Wilmington area. The permit process is nearly complete and we are looking forward to breaking ground on this awesome project very soon! 
There are several other cool projects in the works, but you will have to stay tuned for more updates. That's all for today! 
Welcome Home Tonbo Meadow Homeowners!
Details

Published on Wednesday, 21 May 2014 19:53
It's moving week for the first two Tonbo Meadow homeowners following last week's closings. We want to give a shout out to both of these awesome families and give them an official 'welcome to the Tonbo Meadow hood' from the whole team at Fasse Construction! It has been a pleasure working with both of you and we couldn't have hand selected two better families as initial adopters to this new and exciting style of living...Welcome Home!